plug&paid is comprehensive SaaS shopping cart platform which can seamlessly turn any website or social media page into a shop.
A "plug" is the nickname given to our buttons, links, widgets or custom plugs which our users can customize and deploy on any website or social media page. Each plug has a shopping cart attached to it, which is generated using our 4-step guided wizard via the dashboard. Once a plug is generated, the plug&paid system will provide the seller with a code (also known as an HTML snippet) and/or a unique URL address that can be deployed anywhere on the web inside a website's source code, or become embeddable inside a social media page.
If the plug you generate is a button, 'custom' or a widget, clicking the plug's button surface will initiate a call-to-action, launching the plug&paid shopping cart in a modal window or in a new tab. Page visitors or social media followers will now be able to shop directly on the very page they are visiting without needing to modify the structure or design of their existing page.
Unlimited Shopping Carts & Products: With a single plug&paid account you can create an unlimited number of Channels: buttons, widgets, links and shopping carts. Each shopping cart can have its own set of individual options such as number/type of products, supported languages, terms, payment gateways, templates and more, thus providing plug&paid merchants the full customizability they require.
Creating a plug:
Step one:
When you login to your dashboard, and click the blue "Create Plug" button that is accessible from most of the pages within your plug&paid account

Step two:
Select the type of product you intend to sell.
If you have not created a product yet (check your Inventory page), proceed by hitting 'Add a Product' to begin the simple process of adding a product to your cart. Otherwise click the "Select" button on an existing product you have created before, and click "Continue".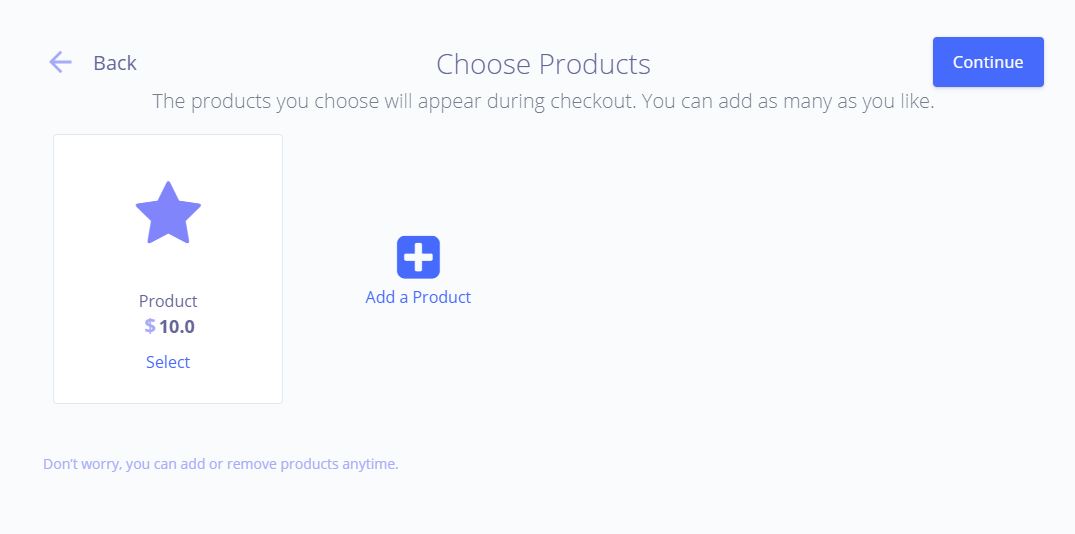 Creating a product is a straightforward process that offers a wide variety of options such as shipping, variations, licensing methods and more, according to the type of product you are planning to sell (physical product, digital content or subscription services).
Step three:
The next step is to select the method that you would like to get paid by. plug&paid supports Paypal (Merchant & Individual accounts), Stripe, Alipay (via Stripe), Bitpay, Bank Transfer, Cash on Delivery and many more payment methods. You can attach multiple payment gateways in a plug's individual cart allowing your buyers to choose their preferred payment method during the checkout process.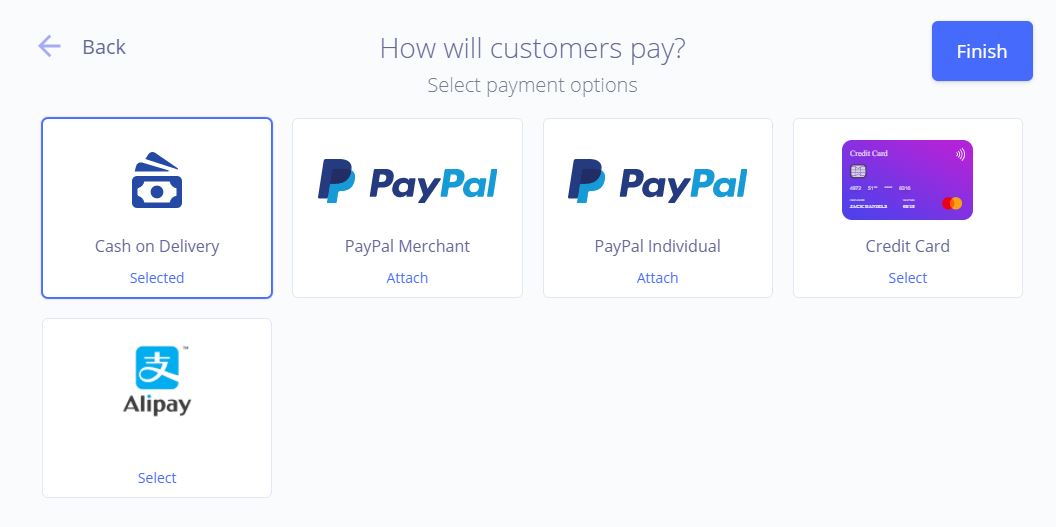 Click "Finish" to complete the process.
Step four:
Your checkout page link is now generated.
Under the Power-Ups tab, you can still customize the checkout experience.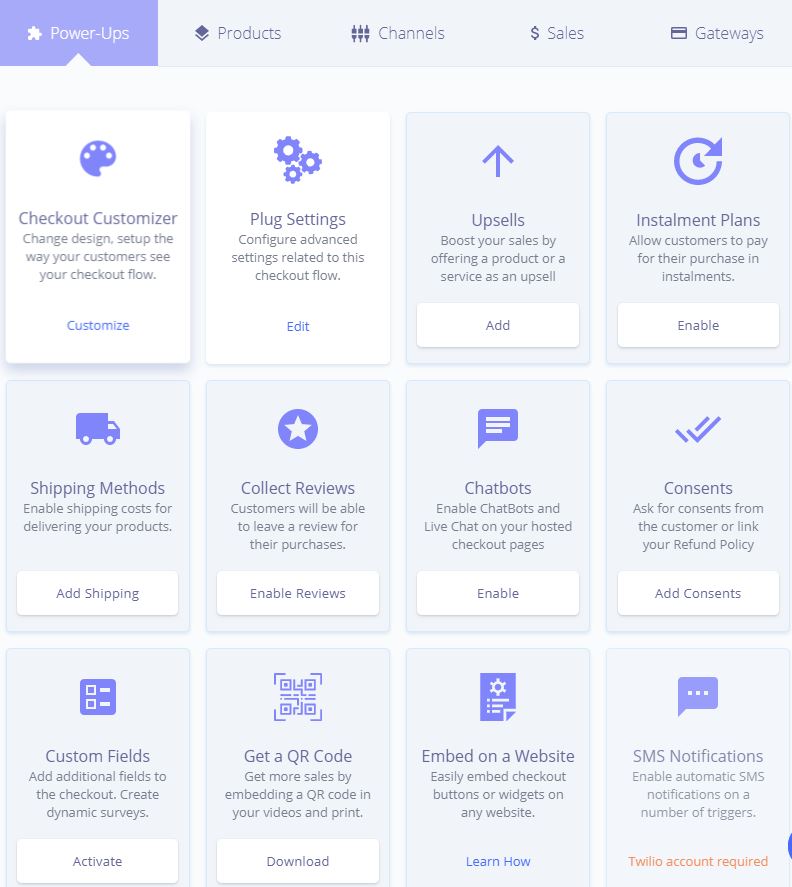 Via the Checkout Customizer you can change the look of your shopping cart, using different templates, backgrounds and colors.
From the Power-Ups tab you can also select the Shipping Methods, configure Upsells that appear during the checkout process, set up Installment Plans, or add Custom Fields in case you need to collect specific information from your Customers.
Step five:
If you have a Website as your selling platform, you will want to embed the plug on your website.
Choose the "Embed on a Website" card from Power-Ups, and choose one of the Channels: button, widget, embed code, or direct link.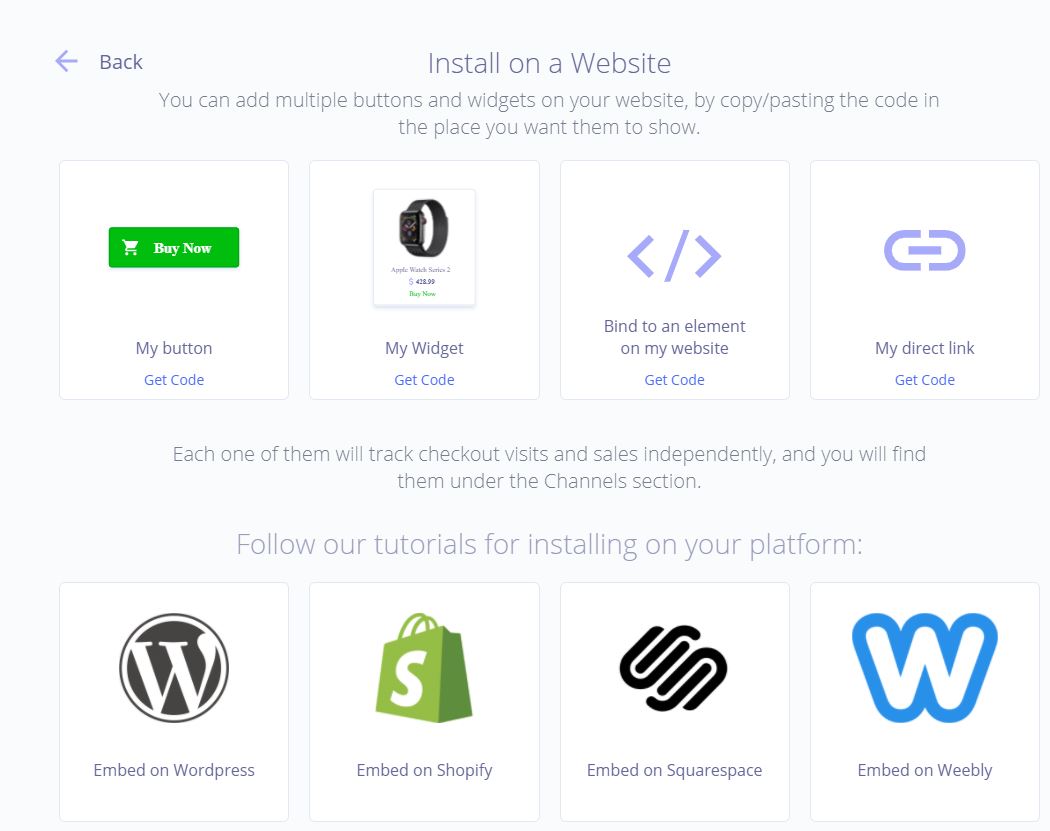 All the designs can be customized to match your website's preferred design identity. Our customization editor allows you to change multiple attributes of a button/widget such as background color, border color, font size, icon, plug size and many more. Once done hit the "Save" button.
Step six:
That's about it. plug&paid will finally generate a code (HTML snippet) which you will be able to copy/paste inside your website's source code. This will then allow the Channel to appear on your website which will then enable the shopping experience for your page visitors.
Once a buyer clicks the button, he/she will be able to buy your products that are assigned to the plug. If your website is SSL secured (HTTPS) the shopping cart will be shown as a modal window above your page, otherwise a new tab will open redirecting the buyer to a shopping cart page hosted by us on our domain.
If you wish, you can choose to disable the modal shopping cart window feature at any time by visiting your "Settings" page.
Do I need a website to use plugnpaid shopping carts?
You do not need a website to use our shopping carts. When you create a plug we automatically generate a page that will host your shopping cart. You can use the URL link of that page and share it with your customers on social media, email campaigns and more.