By simply visiting your Plugs page from the left sidebar menu, hitting the options menu (3 small dots) for the plug you wish to edit, and clicking on "Edit" in the drop-down menu.

You can also access the plug settings option while viewing a specific plug page. Click the 3 dots at the top then choose "Edit".
You can get here by clicking on the Plug's name from the Plugs page. Here you can also manage various settings and the design template.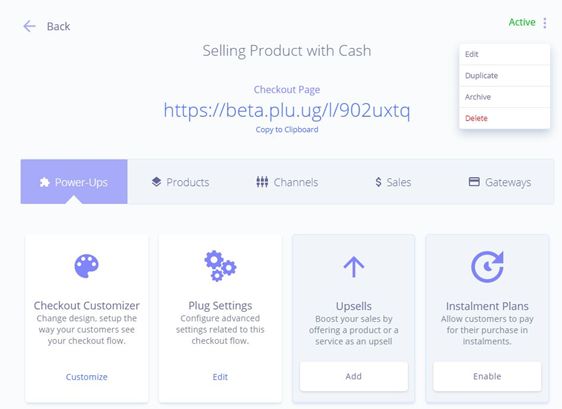 By choosing Edit in either of the scenarios above, you will be taken to the advanced options page, where you can edit the name of the plug, the checkout language and countries, tax rates, mandatory billing fields.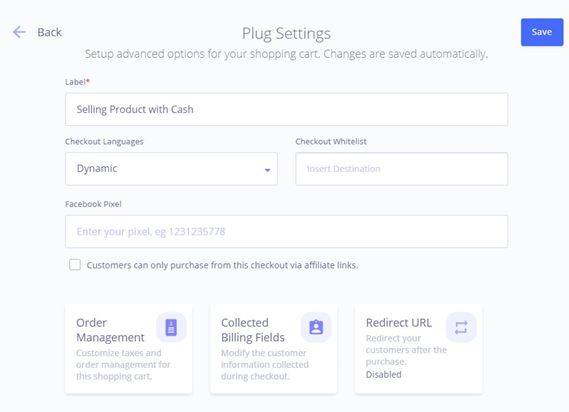 Power Ups
Power Ups are ways to enhance your cart:

 - Checkout Customizer lets you customize the appearance of the cart
 - Plug Settings has the same function as the Edit button, taking you to the advanced options page
 - Upsells let you include a suggestion to buy a different product during the checkout process
 - Custom Fields and Consents allow you to collect specific information you might need from your customers in order to provide them a specific service
 - Other possibilities are adding Shipping Methods, Installment Plans, a Reviews box, Chatbots, a QR code for your Plug to include in videos or print